Our Products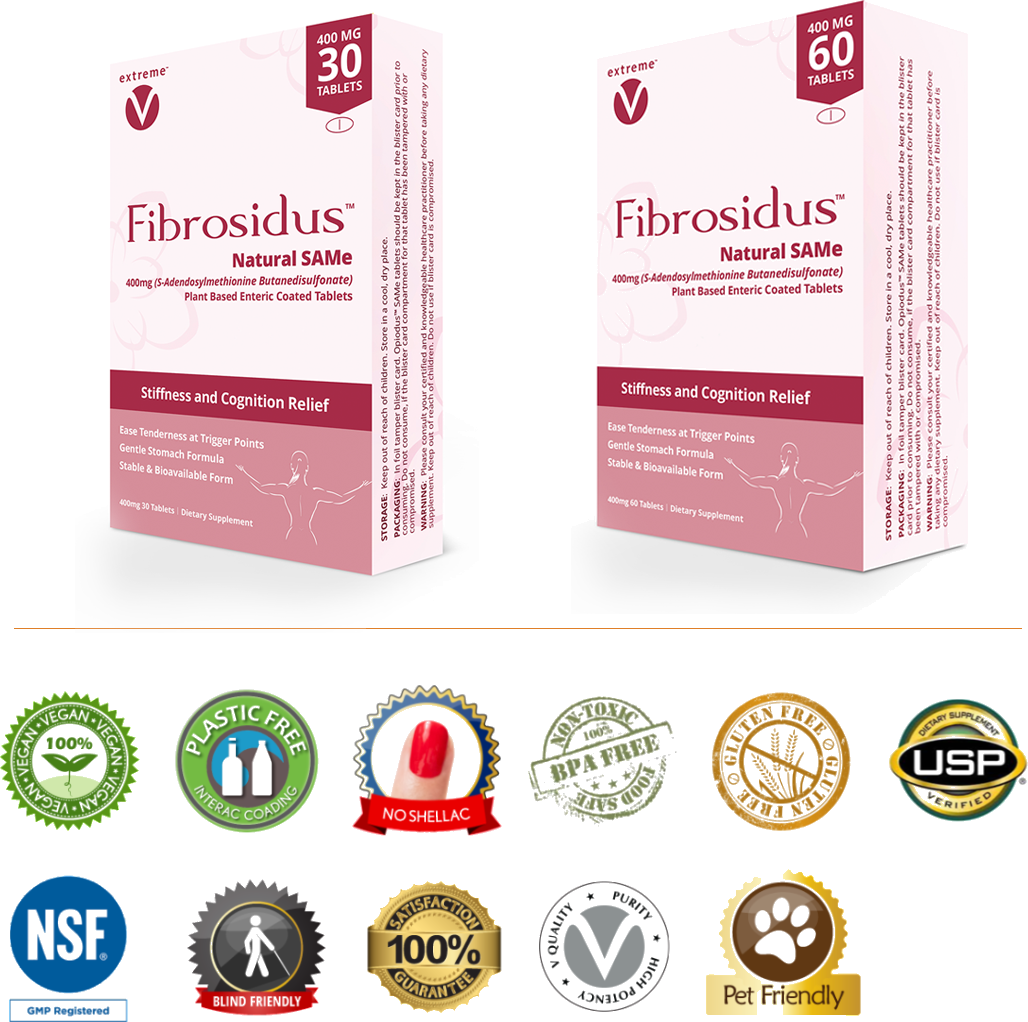 Fibrosidus™ SAMe's active ingredient is (S-Adendosylmethionine Butanedisulfonate). This compound is made primarily in the liver as a byproduct of the metabolism of the amino acid methionine. Fibrosidus™ SAMe active ingredient has been approved in Europe for decades for liver health, joints, mood, brain and to support proper inflammatory response.  SAMe is a naturally occurring molecule found in all living cells. This remarkable natural molecule works quickly; most feel and notice a difference within two to three weeks- clear, distinct and often life changing benefits. People feel more youthful both emotionally and physically as Fibrosidus™ improves mood and detoxifies the body.
Fibrosidus™ is packaged in individual tamper proof foil blister-packed to maximize stability and safety.  DO NOT use if outer seal of blister pack is broken.
Full Potency 400 mg Fibrosidus™ SAMe (net yield) is derived from 800 mg of SAMe (S-Adendosylmethionine Butanedisulfonate).
2015 Fibrosidus™ plant based GRAS enteric coating is launched in North America.
Fibrosidus™ is the only SAMe with a Natural Plant based coating.
No chemicals, No plastic material – only pure Pharmaceutical Grade SAMe  and  Gentle Plant derived materials.
Supports healthy liver function, joint mobility and mood.
Fibrosidus™ SAMe is made via Fermentation, like wine.
Pharmaceutical Purity.
Individually Blister-Packed.
SAMe has been the subject of hundreds of Clinical Studies.
Five years of research and millions of dollars in development.
Each tablet is individually packed to insure product integrity and freshness.
Fibrosidus™ is biologically active product, low temperature processed and Active Pharmaceutical Ingredient:
No Artificial Flavors
No Preservatives
No Yeast or Gluten
No Artificial Colors or Dyes
No Yellow #5
No Insect Extracts
No Plastic co-polymer chemicals